There are a ton of plotlines worth following right now in the NBA. Many diehard fans consider NBA League Pass the absolute best way to keep track of all the developments in both the Western and Eastern conferences. NBA League Pass is a great way to watch the NBA without cable.
But if you're a more casual fan, you might wonder "What is NBA League Pass?" We're here to help answer that.
NBA League Pass may seem like a new service, but it's actually been around since the mid-1990s. On this page, we'll examine NBA League Pass in full. We'll talk about the content you can and can't get on it. If you want to know how to start and how to cancel NBA League Pass, this is the page for you, so keep reading.

What games are on NBA League Pass?
NBA League Pass allows you to watch out-of-market games by streaming them on your favorite device. Why only out-of-market? Because the NBA doesn't want to sell a service that cannibalizes its existing TV partners. If you see a TV channel that advertises itself as "the official network of (team)" then that means you'll need that local channel to watch most games.
Let's say you live in Portland, Oregon. It won't be Dame Time if you've got NBA League Pass. Instead, you'll be expected to subscribe to NBC Sports Northwest to get live games. If you don't mind waiting a bit, you can watch local games on NBA League Pass three days after they air. If you're old-school, NBA League Pass Audio lets you listen to local radio broadcasts of both home and away games for a one-time fee. (This is similar to how things work with other sports league streaming services like MLB TV.)
The NBA also wants to avoid messing with its national broadcast partners, so if a Trailblazers game is picked up by a network like TNT, ABC, ESPN, or NBA TV, you also won't be able to see it on NBA League Pass. It doesn't matter if you're a Trailblazers fan who lives a mile from the Moda Center or one who lives 3,100 miles away in Boston. You just can't get nationally televised games through NBA League Pass. That includes games on NBA TV; you'll need to pay extra to bundle that channel with your League Pass subscription. (Luckily, there are ways to watch ESPN without cable — but that's a subject for a different article.)
Can you watch playoff games on NBA League Pass? You cannot. It's regular-season only. So to tie this all together, let's say you live in Portland but have family in Texas that can't stop raving about the Mavericks' young talent. You could snag NBA League Pass to keep up with all the Mavs games in the regular season. That way, you'll have something to talk about instead of politics. When the regular season is over, you must turn to a national network like TNT or ESPN.
It's also never too early to start thinking about watching next season's slate of games via NBA League Pass. As in the above example, this works best if you're a Dallas Mavericks fan in Portland, or a Portland Trailblazers fan in Chicago — in other words, an out-of-market fan. If you like a non-local team or just miss basketball in general, you'll find what you're looking for on NBA League Pass.
What devices can I use to watch NBA League Pass?
There's no shortage of options on which to watch NBA League Pass. You can even listen to the audio in your car. Here's a list of supported platforms for NBA League Pass.
Streaming platforms and devices
Android TV
Apple TV
Chromecast
Fire TV
Video game consoles
PlayStation 4
Xbox One
Mobile devices
Android (version 5.x and above)
Fire (Amazon Fire phones and tablets)
iOS (11.0 and higher)
Other
Amazon Alexa
Apple Watch
Apple Car Play (Audio League Pass only)
Oculus Go
Oculus Quest
Samsung Gear VR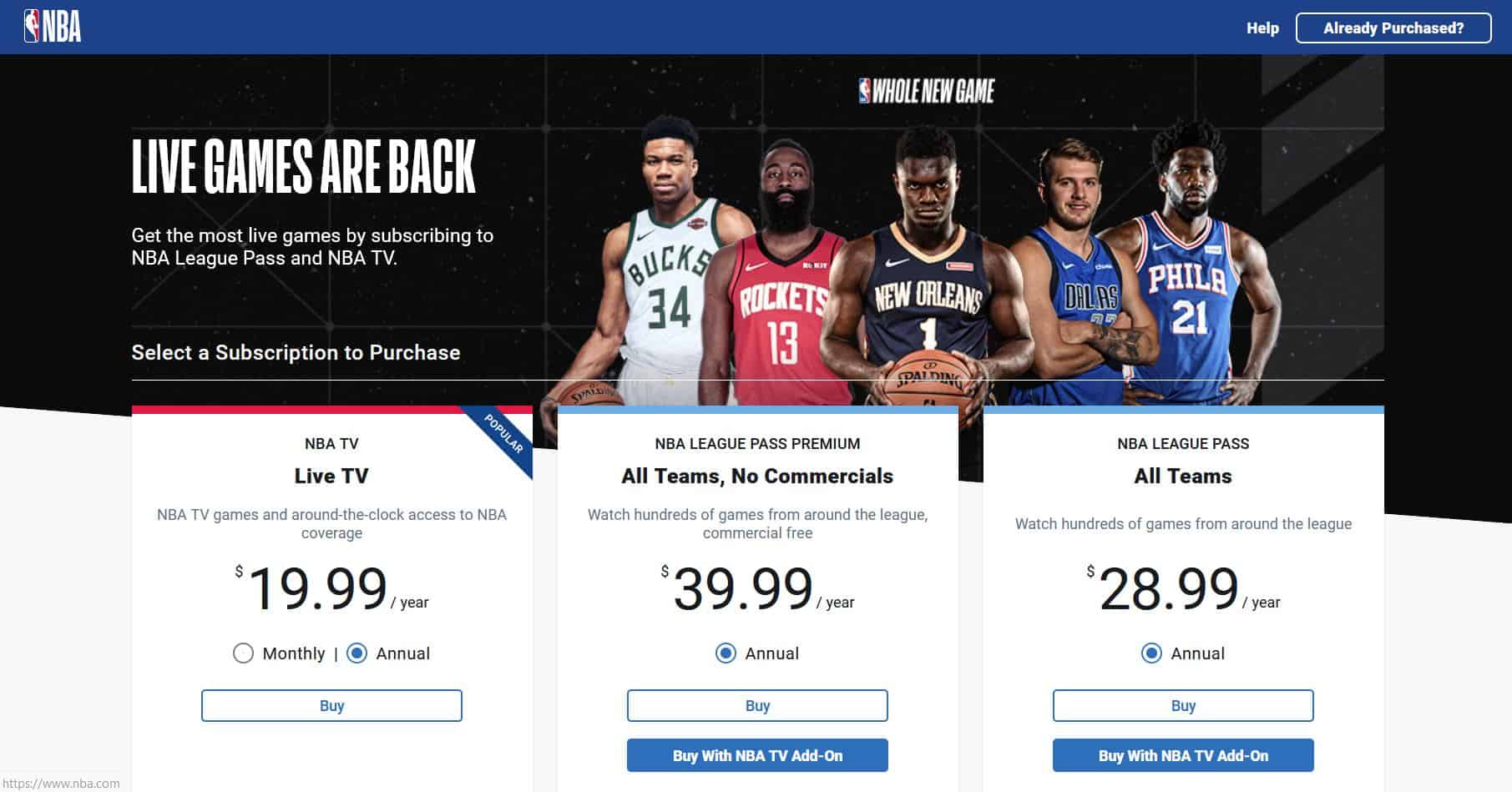 How much does NBA League Pass cost?
As of the 2019-20 season, NBA League Pass costs $199.99 for a full season. If you'd rather pay by the month because you aren't sure or just don't have that kind of cash lying around, you would pay $28.99 a month.
Got extra money to spend on watching basketball? You can opt for the NBA League Pass Premium plan, which the NBA bills as "All Teams, No Commercials." It costs $249.99 and includes NBA TV.
What if you only care about seeing one team's games? A single Team Pass cost $119.99 at the start of last season, or $17.99 a month. Just remember that you'll only get out-of-market games, so it's not a good idea to do this if your favorite team is just down the road.
When you sign up, you also have to agree to a subscription that automatically renews. That's obviously a bigger issue for the annual plan than the monthly plan. If your team couldn't even make it to Disney World this year and you don't want to see another season of that, make sure to cancel before the day that your subscription renews. In past years, that's happened around September. But in the age of bubbles and August basketball, who knows?
Single-game subscriptions are one exception to the auto-renewal rule. If you only want to see one game, you'll fork over $5.99 to watch the game and be done with it.
Deals on NBA League Pass
Like a lot of services, the price of NBA League Pass drops as the season goes on. If you wanted to watch the Disney World bubble games only, you'd pay $28.99 for NBA League Pass. But as we mentioned, that's not the best deal now because the playoffs start Aug. 17.
Stay tuned to Cordcutting.com as the NBA gears up for next season. We'll be sure to let you know about any good deals that pop up.
Getting an NBA League Pass free trial
The NBA is finishing up its regular season restart at the time of this writing, so there are no free trials. But the service does periodically offer them. For instance, it offered free access to both recent and classic games during the league shutdown that began in March.
NBA League Pass contracts
NBA players may have contracts, but NBA League Pass does not! However, that doesn't mean you can cancel anytime and get a refund. You can cancel anytime, but the cancellation won't take effect until the end of your service term, regardless of whether that's a month or a year.
So if your team's best player gets injured in January and you decide to swear off basketball to become a lacrosse fan, you can go online and cancel in a fit of righteous fury and/or sorrow. Yet that cancellation won't kick in immediately. It could be anywhere from a few days to a few months, depending on when you purchased NBA League Pass and if you went with an annual or monthly plan.
How to cancel NBA League Pass
So you know when your service term expires, and you're still ready to cancel NBA League Pass. Here's how to do that if you bought it directly from the NBA's website.
First, head to the site's subscriptions and billing page and log in. Then select "Manage Subscription," followed by "Cancel Subscription." You'll need to give a reason for why you're cancelling, but it's a simple question; you aren't required to write a long essay on all the ways the Cleveland Cavaliers have disappointed you since LeBron left for the Lakers.
All about NBA League Pass
If you love sports, we've got you covered at Cordcutting.com. Check out the links in this piece, the related stories below, our home page, and our social media pages for more on NBA League Pass and other swell cord-cutting solutions. To go back through our archives for even more NBA League Pass content, just type "NBA" or "NBA League Pass" into our search bar.