RCN Internet in a Nutshell
Offers Service in: Massachusetts, Illinois, Pennsylvania, New Jersey, New York, Virginia, Maryland, and the District of Columbia
Major Cities Covered: Boston, MA Chicago, IL, Washington, DC, New York City, NY, Philadelphia, PA, and Allentown, PA
Residential Pricing: $19.99 per month
---
The main reason I cut the cord was to save money and shed commitments that required me to stay in one place. RCN's internet has all the right features to accommodate cord cutters like me — as long as you stay within their coverage area. RCN's plans and pricing may seem a bit confusing, but don't worry: I'll give you an overview of their plans, their pricing, and why they're so highly favored by customers.
Overview of RCN Internet
Though it's not the largest internet provider in the country, RCN covers some of the most densely populated cities in the United States. Primarily known for its cable internet services, RCN has over four million cable internet subscribers. However, to keep up with competitors like Xfinity and AT&T Fiber, RCN has developed an ever-expanding fiber-optic network. For now, each city RCN services has access to its fiber gigabit plan.
While fiber internet tends to be faster and more reliable than cable, RCN offers some of the fastest cable internet speeds in the country. RCN won PC Magazine's Readers' Choice Awards three years in a row and has come in the top five for the last two years. RCN earned that satisfaction with a combination of price, speed, and reliability.
As for RCN plans and pricing, expect solid value. The price I pay for my RCN 100 Mbps plan seems a bit high relative to the value other providers offer. But, to be fair, up to 100 Mbps plans aren't as common as they once were with cable providers — many providers, including RCN in certain cities, have changed their starting speeds to around 200 Mbps. My guess is that the upgraded speeds help ensure customers receive fast enough speeds during peak network traffic hours. Cable internet will slow down throughout the day, but RCN's hasn't slowed to the point where it's unusable. Below is a screenshot of my speed during peak hours.

Even though my speeds are about half of what they should be, I'm still able to video chat with my relatives while my son watches PJ Masks.
Pros and Cons of RCN Internet
Pros
Internet-only plans start at just $19.99 per month
No contract plans
Offers both cable and fiber internet
Cable network reaches over 4.2 million people
No data caps
Cons
Limited to select cities and locations
Plan speeds and pricing vary by location
Promotional rates increase after the first year of service
RCN Plans and Speeds
RCN's plan speeds can range all the way from 10 Mbps to 940 Mbps, depending on where you live and what plan you choose. RCN doesn't offer the same plans in each area it serves, and the prices vary as well. For example, Chicago has the highest price for RCN's fiber gigabit plan, while Philadelphia has the lowest price.
| | Download Speed Range | Price Range |
| --- | --- | --- |
| Boston | Up to 100-940 Mbps | $24.99-54.99 per month |
| Chicago | Up to 250-940 Mbps | $39.99-59.99 per month |
| DC Metro | Up to 25-940 Mbps | $19.99-49.99 per month |
| New York | Up to 250-940 Mbps | $34.99-49.99 per month |
| Philadelphia | Up to 25-940 Mbps | $19.99-44.99 per month |
| Lehigh Valley | Up to 10-940 Mbps | $24.99-54.99 per month |
RCN's pricing is lower than that of most major competitors, including Verizon Fios. We at CordCutting.com actually recommend Verizon Fios over RCN if you're new to cord cutting. However, I recommend RCN's up to 940 Mbps plan over Verizon Fios' for seasoned cord cutters — it costs less even when you add in equipment fees.
RCN offers a few location-specific perks that help entice new subscribers. Some plans in Chicago and DC Metro come with a $100 gift card. In Philadelphia, all new subscribers get their first month of service free of charge, while New York subscribers get their first three months of service for free and free "no contact" installation. RCN also offers deals across all their plans people in larger households and music lovers would enjoy.
Fortunately, RCN does not put data caps on any of its internet-only plans. I can stream Tom Clancy's Jack Ryan and play NFS Heat as much as I want without worrying about exceeding a limit. For heavy internet users, not having a data cap can help save on overage fees that you might get with other providers like Cox or CenturyLink.
RCN Internet Fees
| Fees | Cost | Optional? | Type |
| --- | --- | --- | --- |
| Installation | $49.99 | Yes | One-time |
| Early Termination Fee | None | N/A | N/A |
| Router Fee | $10 | Yes | Monthly |
Though RCN is not transparent about rate increases, it makes up for it with avoidable fees.
Installation
RCN's professional installation costs $49.99, which is on the low end of what most providers charge. There's a good chance you can get this fee waived if you sign up during one of their promotions. Or you can choose self-installation and avoid the installation fee entirely. Self-installation is pretty quick whether you get a kit from RCN or install your own modem. Either way, you'll have to call RCN to activate the modem once it's set up.
Equipment
I rent a modem from RCN — it's a small and relatively compact notebook-sized black box that doesn't take up a lot of space. Thankfully, it's a modem and router combined, so I don't have too many wires to hide. It's easy to tell when something is wrong with my connection when the 'online' light is blinking or off.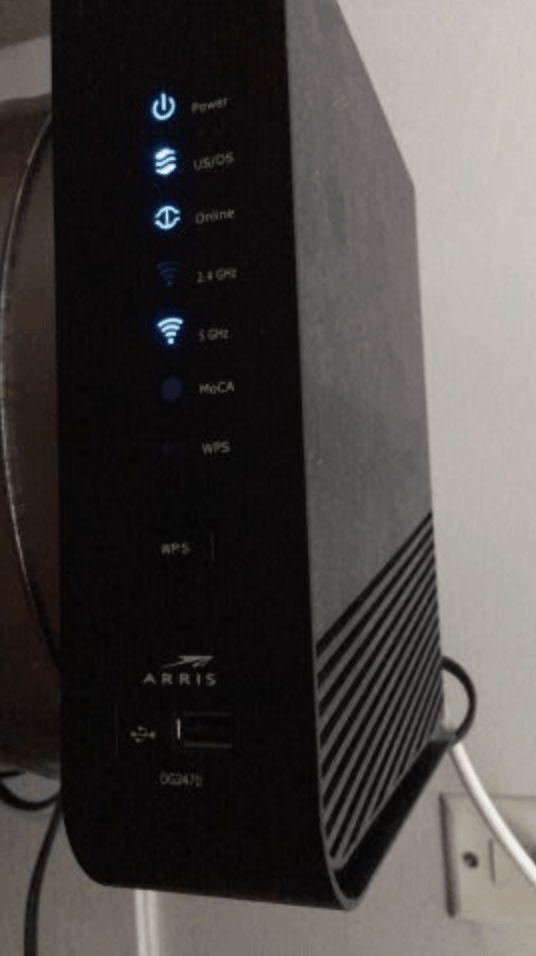 There haven't been many problems, but I am considering getting my own modem to save money. RCN makes it pretty easy to bring your own modem since you get a wider range of choices. Most providers have a list of certified modems, but RCN just has a few requirements depending on your plan speed — you'd be better off just getting a DOCSIS 3.1 modem in case you decide to upgrade speeds at any time. And don't worry if you don't know what that means; all you need to know is that type of modem can handle speeds up to 1,000 Mbps. They cost a bit up front but you'll save money over time (even if you decide to switch providers).
Keep in mind you can't use your own modem if you get RCN's fiber plans.
Contracts
There isn't much to say about RCN's contracts since they don't require them. No contracts means no early termination fees. You can cancel anytime during your promotional period or after without penalty.
RNC Customer Service
RCN provides multiple channels to contact their customer support team. RCN's live chat services are available Monday through Friday, from 8 AM to 10 PM, as well as 10 AM to 8 PM on weekends and 10 AM to 6 PM (EST) on holidays. It looks like their Twitter (@rcnconnects) or Facebook operate on the same hours. If you need help at 3 AM, you can call RCN's 24/7 support line.
I haven't contacted RCN about any issues so far, but I do plan on calling to sign up for a new promotion when mine ends.
Verdict
RCN offers fast speeds that should appeal to most streamers and cord cutters. However, their plans, speeds, and service quality vary greatly by location. RCN is not transparent about its standard pricing model, which can lead to surprising bills once the one-year promotional period ends. But you could always try signing up for a new promotion by calling customer service. Their up to 100 Mbps plan is fast enough for my family, but RCN's up to 250 or 300 Mbps plan is a great choice for households of four or more.